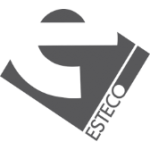 ESTECO is an independent software provider, highly specialized in numerical optimization and simulation data management. Their projects are based with a sound scientific foundation and a flexible approach to customer needs.
With 20 years' experience, the company supports leading organizations in designing the products of the future, today.
Three Italian engineers, Carlo Poloni, Luka Onesti and Enrico Nobile, initially aquired a knowledge in engineering design optimization during an EU funded project. Later, In 1999, they decided to turn it into a successful commercial product. ESTECO was the first spin-off of the University of Trieste.
Their smart engineering suite brings enterprise-wide solutions for design optimization, simulation data management and process integration and automation.
Their aim is to help companies excel throughout this innovation journey. So they provide them with leading-edge technology to master engineering complexity and accomplish the shift to agile product development. Over 300 international organizations have chosen ESTECO to consolidate specialized expertise, streamline teamwork and boost product development across a wide spectrum of industrial sectors.
Based in the hearth of the Detroit automotive district, ESTECO founded their North American office. From 2004, they provide qualified local support to customers in this space. Over the years, and thanks to a growing team of highly skilled professionals, the action scope expanded to many other sectors and organizations across the US, with recent focus on the Aerospace field.
Since a few years, with a steady yearly staff growth rate, the need for relocation to bigger premises had become evident. Located in Area Science Park in Trieste – Italy, the new ESTECO Head Quarters are bigger, more functional and modern. So from 2018, they offer a better work environment to their employees and allow space for further development.
Fluids & Co is promoting ESTECO's products in Canada.