dedicated to the 3D design of the plant
ESApro 3D piping
Fast and precise 3D modeling of the plant. ESApro 3D Piping makes the design of the plant extraordinarily fast and intuitive, guaranteeing the accuracy of the graphical representation.
Spec-driven piping design. ESApro 3D Piping provides a tool for the creation of the Piping Specs that constantly controls and assists the user while drafting the scheme.
Customizable dimensional catalogue. ESApro 3D Piping is supplied with a dimensional catalog that contains over 10,000 piping components complying with the international standards, PVC, PTFE, resin glass, pharmaceutical and Victaulic libraries included. The vast catalog can be easily expanded, by creating new dimensional tables or by using 3D models supplied by manufacturers of piping components.
Structural steel. The system includes a module for modeling steel structures. The SDNF interface allows to export the model to steel detailing applications, then allowing to re-import it once processed.
Equipment. A parametric library of equipment such as pumps, tanks, heat exchangers and other devices is included.
Real time interference check. The program detects possible interferences in real time during the modeling process.
Integration with ESApro P&ID. Dedicated functions constantly check on the consistency between the P&ID schemes and the 3D model.
Orthographic automatic drawings. The automatic 2D drawing generation tool is one of the strong points in ESApro. Changes made to the 3D model automatically affect the 2D drawings.
Isometric drawings automatic generation. Isometric drawings, complete with dimensions, tags, references to other sheets, weldings, insulation, cutting and material lists, are automatically created by ESApro Isometrics.
Compatibility with 3D viewers. ESApro 3D piping produces intelligent models, navigable with the most common 3D model viewers on the market.
Customizable material lists. ESApro automatically produces customizable material lists. With the application ESApro FORem, it is also possible to generate these documents on templates created by the user.
Compatibility with BIM standard. The 3D model can be exported through the IFC interface, fully compatible with the BIM standard.
Laser Scanning. ESApro is fully compatible with the most common laser scanner systems for the three-dimensional survey of existing plants.
ESApro Isometrics
Isometric drawing automatic generation from ESApro 3D piping model. ESApro Isometrics automatically generates the isometric drawings starting from the ESApro 3D Piping model.
Isometric drawings manual generation. In manual mode, ESApro Isometrics allows users to quickly create isometric drawings starting from scratches.
Spec-driven modeling and material lists generation. The user can draw and quote isometric drawings in an accurate and simple way by choosing the appropriate symbols from the library, under constant control of piping specs. Soon after the software generates the bill of materials within the drawing.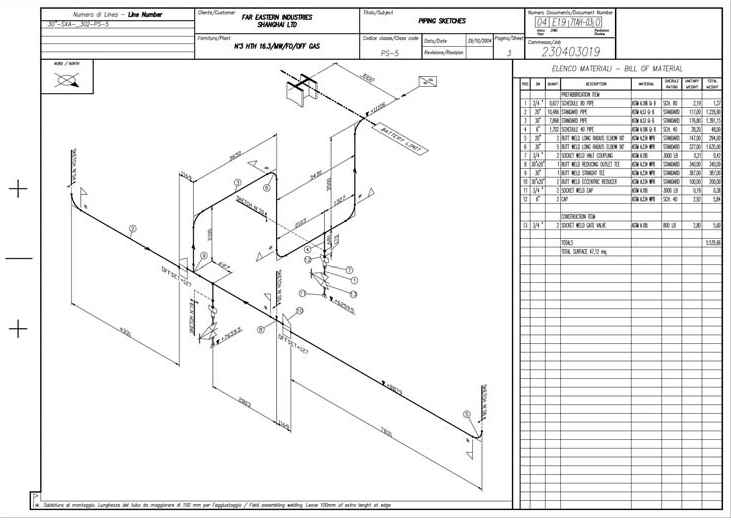 Related information from our blog…