Data-first digital twins built on Nextspace are customizable and extensible. Our platform helps you integrate, federate, and futureproof valuable data.
---
Our platform is designed so you can begin unifying your data today Simple. Adaptable. Begin right now—even if your data is incomplete and you are still debating data standards.
Harmonize your data
A data-first approach.
Because it's not a choice.
Over the next decade, digital twins will become commonplace.
The global market is set to grow almost 2,000% within the next few years. This increased adoption is driven by a need to address increasingly complex challenges. Challenges that require humans to better leverage the power of data and computers.
While we enable simple beginnings, data-first twins built on Nextspace will easily cope with increasing complexity. Our unique data architecture can connect your digital twin to a network of others. The same architecture is capable of integrating emerging technologies, like AI, that will become commonplace too.
To last the test of time, digital twins are required to be data-first.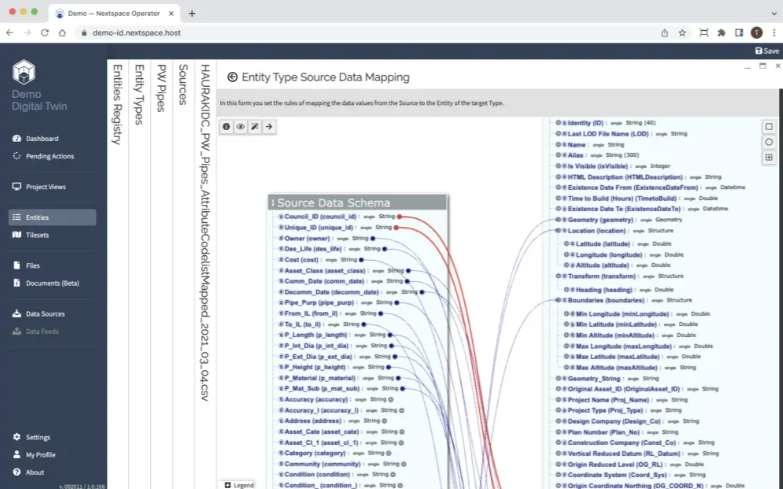 Harmonize your data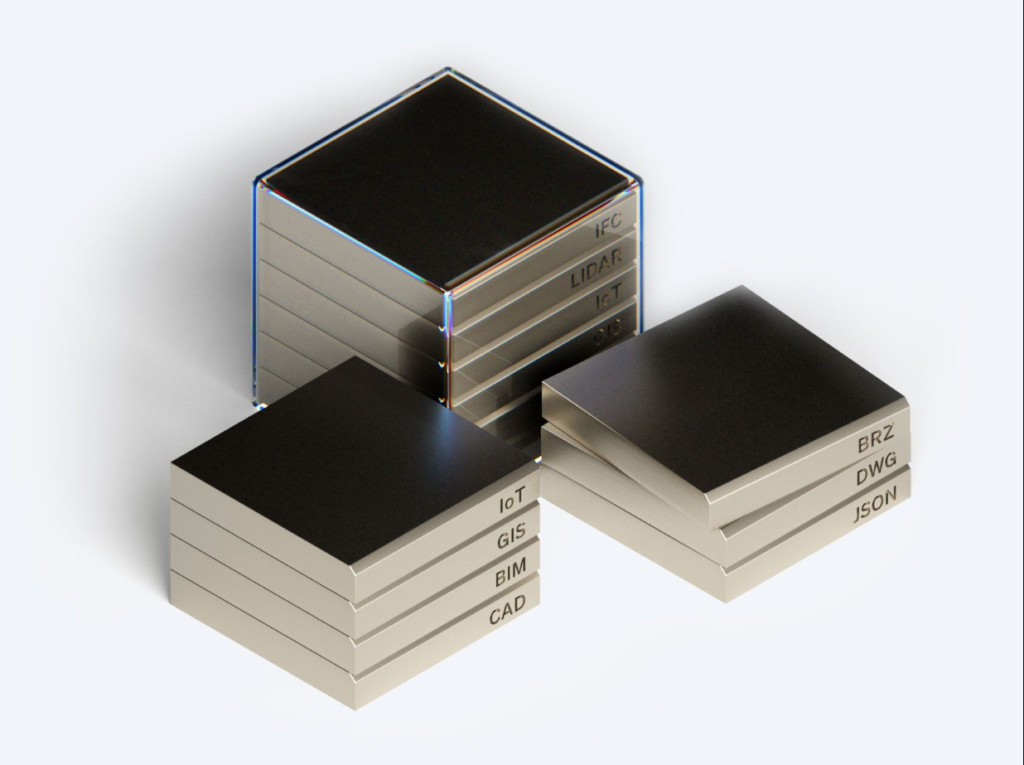 The real-world challenges you're trying to solve are rarely simple enough to solve with just a single set of data. That's why Nextspace treats all of your data equally—regardless of where it comes from, or the format it's stored in.
Unify BIM, CAD, EAM, and GIS data
Import graphics, relationships and data including IFC from ArchiCAD, Tekla, Bentley, Revit, and more. More formats include Revit, AutoCAD Plant 3D, KML and KMZ, JSON and GeoJSON, TIF and GEOTIFF, LAS and LAZ point clouds, DWG and DXF, and Navisworks.
Connect dynamic source data
Integrate link sources from Esri, SAP, IBM Maximo, and SharePoint. Link IoT, SCADA, HMI, and sensor data.
Import point clouds, LIDAR, documents and multimedia
Our platform readily accepts point cloud, LIDAR, and photogrammetry tile sets. Drag and drop an array of file formats, documents and multimedia.
A data architecture to last for the lifetime of your asset
Digital twins built on our platform deliver value from the start. From when you plan assets, through operation and maintenance, to decommissioning or disposal.
Building on Nextspace means your digital twin can adapt to multiple data formats and sources, and easily transition to new teams as your assets move across different lifestages. Our architecture is designed to adapt to future technologies and formats too.
All of this is possible because our architecture is governed by a GUID-based ontology—creating a futureproofed data platform that can adapt and extend over decades.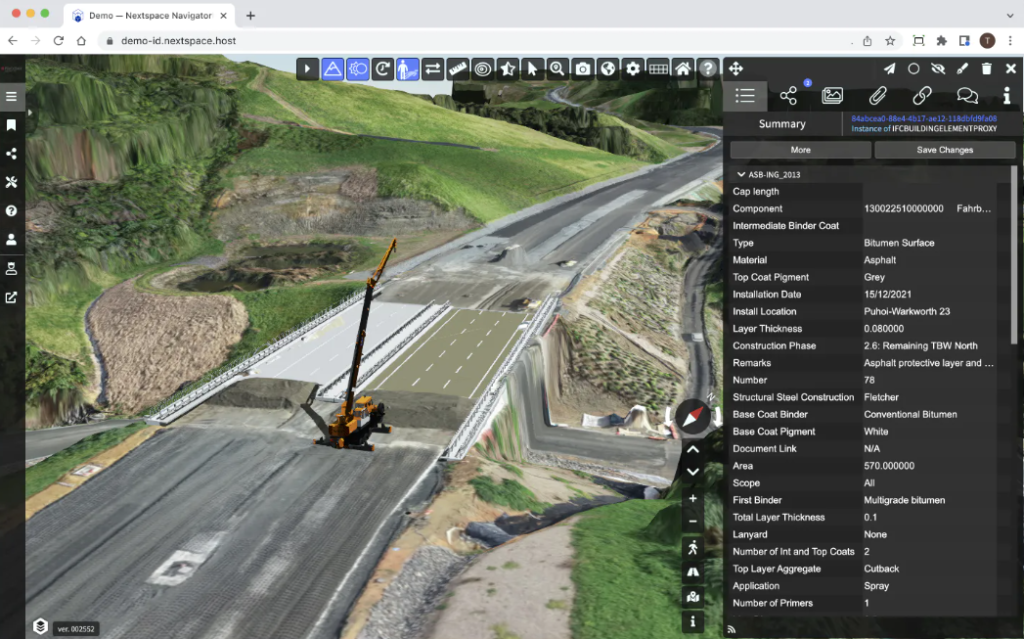 ---
Tools to help you and your team instantly understand critical information Use the browser-based Navigator to see inside your assets, through walls, and even underground. Visualize your data in 2D or 3D using Cesium, Unreal Engine, or NVIDIA Omniverse.
Visualize your data
See it. Understand it. Act on it.
If we are data-first, we're communication-second.
People often miscommunicate. Words mean different things to different people, teams and industries across organizations and regions. Numbers and charts are guilty of the same issue. Often, looking at the same thing together brings clarity and understanding for all.
Every second, we all absorb and process incredible amounts of information through our eyes. Over tens of thousands of years, we have learned to use and rely on visual memory. We learned to assess a situation at a glance and instantly make critically important decisions.
Our platform recognises these realities and helps you create your most effective communications through our customizable interfaces, range of renders, and multiple visualization tools.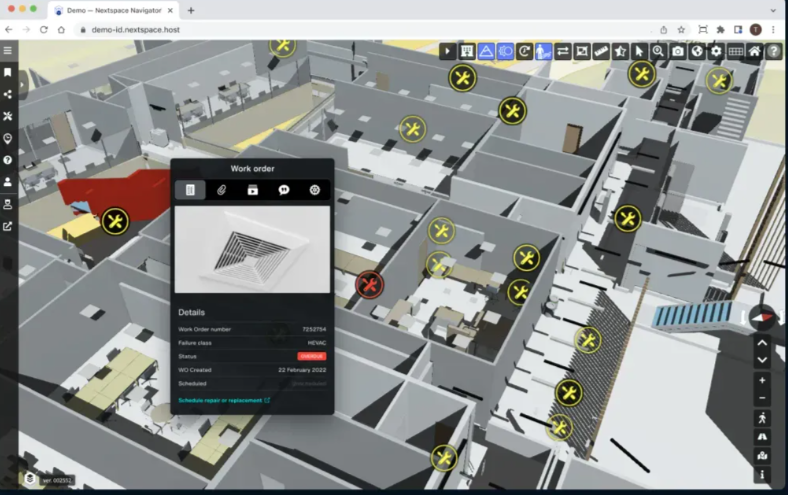 Visualize your data, your way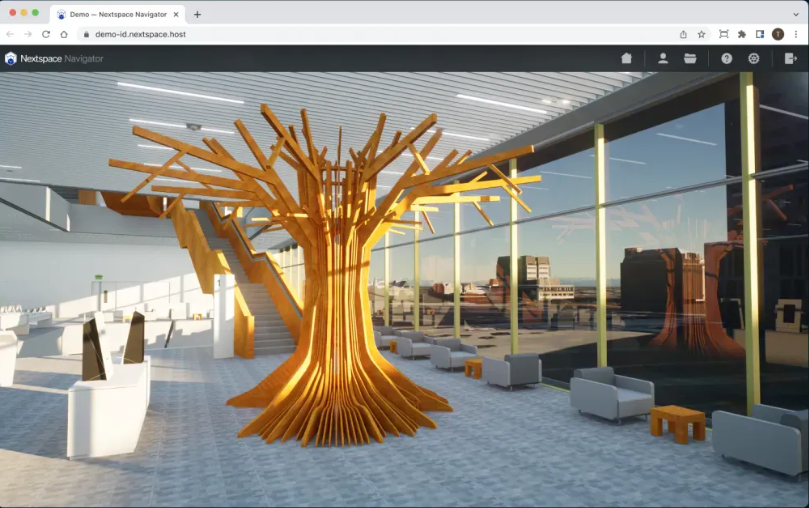 Our platform allows you to choose the visualization that best showcases your data.
Choose from Cesium's geospatial power, the Nanite photorealism of Epic's Unreal Engine, or NVIDIA Omniverse's collaborative tools, simulation and AI capabilities.
Assets, understood
Whether you are an engineer, designer, accountant, or manager; you all have one thing in common. The asset.
Communicate with your team and stakeholders using the visual everyone can relate to—the asset being discussed.
Quickly bring understanding and alignment with Nextspace's visual tools that include bookmarks, markups, Level Of Detail control, performance parameters, and more.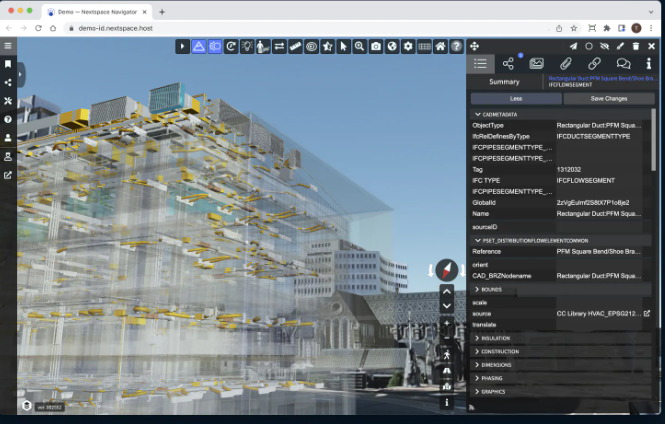 See performance. Improve performance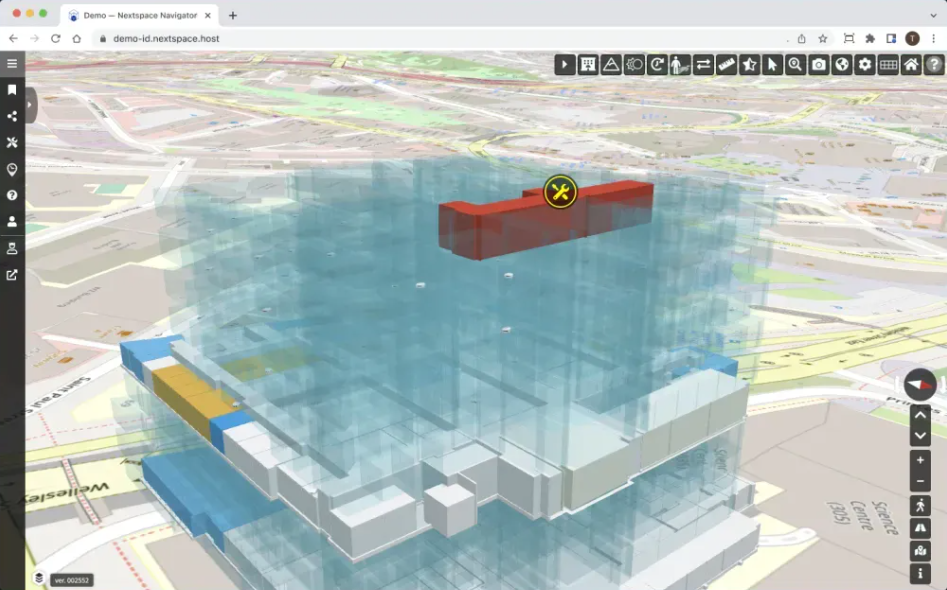 Assign performance parameters and visually enhance individual components, or entire assets, within your Nextspace digital twin.
If a valve's performance is critical, color it red and ensure everyone on your team knows. Display liquid volume within a tank, and set up a range of colors that reflects the levels within the tank.
Assign customized permissions, from your Board to your maintenance crew, and enable them to see and prioritize the tasks or issues most relevant to them.
Design an interface that works for you
Make our platform your own.
Create bespoke user interfaces for you or your customer. Easy to create, and prioritize the features that matter most.
Ensure that even small details like icons feel familiar and consistent within your existing systems.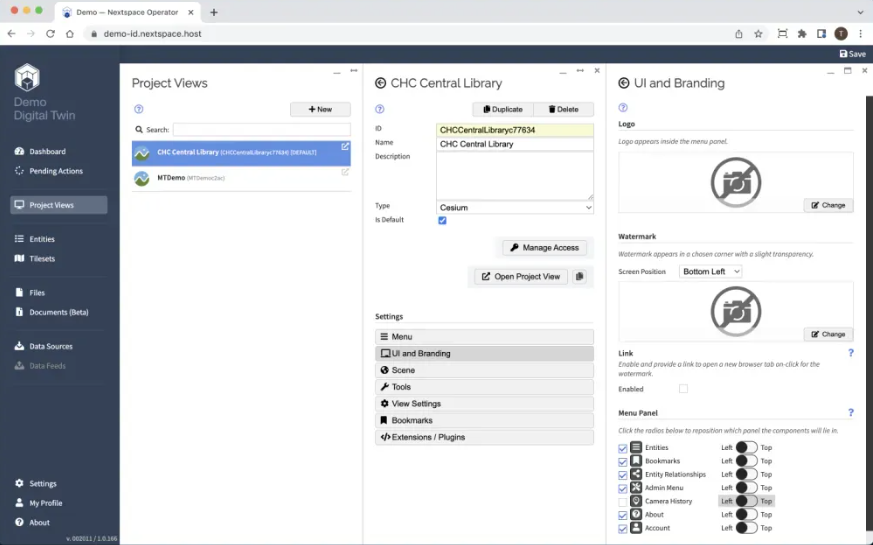 Visual layering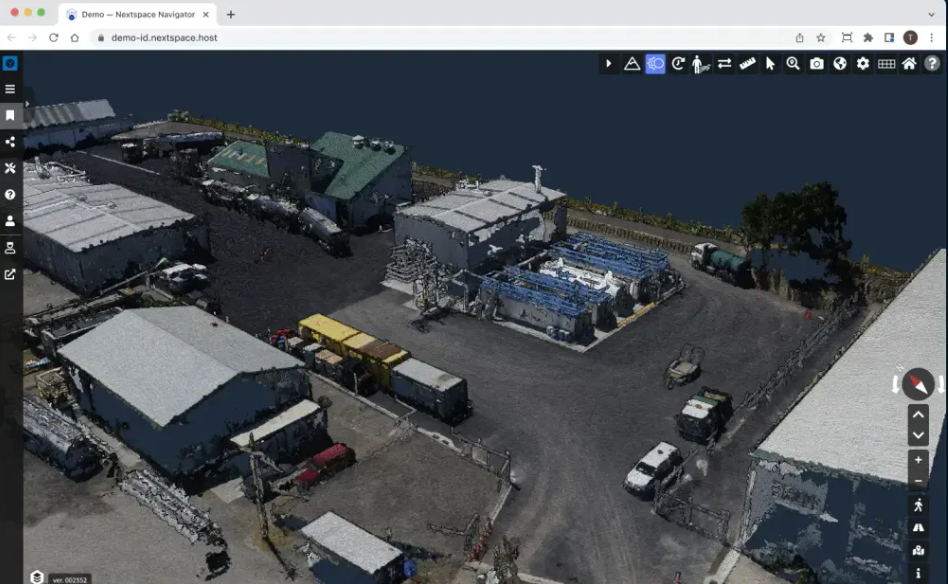 Import new drone footage and detailed photogrammetry files, and then layer them on top of geospatial tilesets to create a complete picture.
---
Replicate the real world so you can positively impact your real world Use our platform to deliver new returns. Improve alignment, reduce waste and workplace incidents, optimize efficiency, avoid asset failure, and predict the future.
Use your data
Put your new asset to work
It is estimated that typically, as much as 60-73% of all data within an Enterprise goes unused.**
Digital and physical twins are valuable for many reasons, but only if they have focus and application to specific challenges.
ROI requires focus at each stage of the digital asset lifecycle, but especially during planning and the business integration of your twin.
**The Forrester Wave, "Big Data Hadoop Distributions, Q1 2016"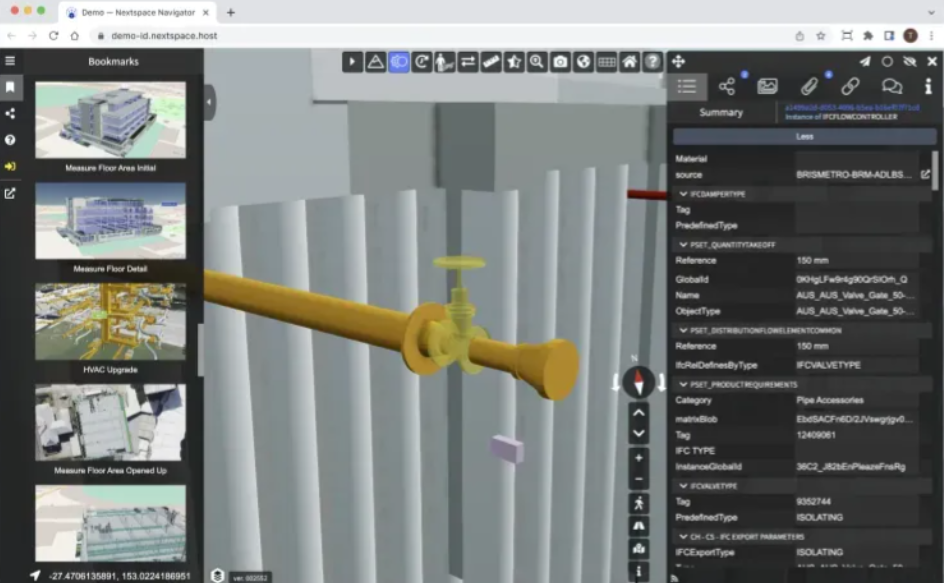 Related information from our blog…